Design Diversity Equity & Inclusion programs
your employees want to attend.

Employees are tired of diversity training that feels patronizing and are not safe for expressing diverse opinions.
We have designed a dialogue series with high impact that fosters inclusion & changes behavior. See below the program design and reach out with any questions.
"The facilitator is amazing. I never feel judged and she creates what feels like a very safe environment to dialogue. The format of the training. I feel like I've learned a ton in an environment that allows me to speak my mind (and therefore probably grow). I think some diversity training programs are more didactic in nature and I'm not sure that would have been as effective. A plus is the exposure to coworkers that I don't spend time with. While it's not always easy to share such charged topics with others I feel closer to my coworkers as a result of what I've learned in some of these sessions."
— Director, Health & Wellness
"This has been an ongoing journey for me around how to be an effective ally since long before participating in these DEI dialogues. That said, I have gained many new insights into how to be more effective. There are MANY things I have taken away from these dialogues but one thing I plan to utilize regularly into my life now is with my work as an adjunct faculty for Nurse Practitioner students. SU is a Catholic Jesuit institution that has a strong focus on social justice. This past year in particular there have been a lot of discussions and emotions around race and discrimination in academia. I plan on integrating the 'community agreements' with my seminar groups moving forward in an effort to create a safe space for people to be able to share their feelings and experiences without fear of being judged, criticized or devalued. Thank you for demonstrating how to do this effectively and compassionately through these dialogues."
— Nurse practitioner, Health Care
"I have learned that the smallest of details, most often overlooked, have a tremendous impact on people's life. Diversity Equity Inclusion has broadened my awareness in seeing those details in the world around me. This experience has made me a better provider and person."
— Physician Assistant, Health Care  
CME
Physicians & nurses received Continuum Medical Education credits (CME).
Measurement
Measure behavior changes to know you are making a difference.
Facilitator Pairs
Train-the-trainer cohorts of volunteers to conduct dialogue sessions.
Certificate of Completion
Participants & trained facilitators receive a certificate.
Neural Shifts recently designed and implemented an Inclusion Allyship Dialogues Program for a nationwide health care provider. 
To improve the patient experience by raising awareness of systemic inequities across groups.
To provide a safe climate for employee connection and learning.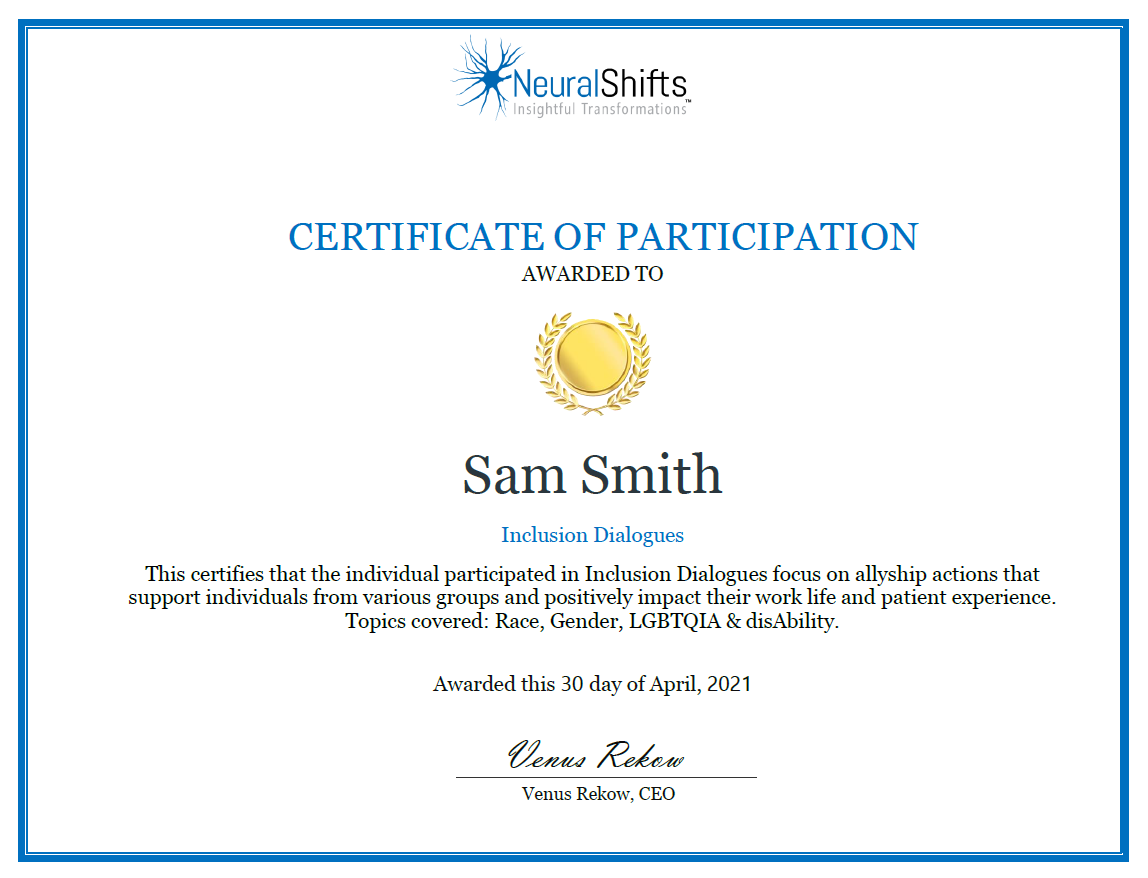 CONFIDENCE
To speak up about DEI issues
Knowledge
Increased awareness of systemic biases
Actions
Use inclusive care practices
Actions
Use inclusive language with colleagues
Stay ahead in a rapidly changing world. Subscribe to Insights, a look at the critical issues facing global businesses.